Frederick Frahm
is a distinguished and prolific American composer whose music is represented by publishers in the US and Europe.
This website features essential works from the composer's catalog including music for organ, choral works, art song, handbell pieces, chamber music and other genres.
Use the links above to review scores, hear mp3 clips, read a bio and program notes, learn about recent commissions, and purchase performance editions.
All music posted on this site is available either from your music retailer or from MusicaNeo in professionally engraved editions (click on the icon below).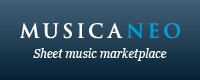 ---